A woman has gotten more than what she did not bargain for after raining insult on President Akufo Addo as he addressed the Nation yesterday.
The president of Ghana, his excellency Nana Addo Dankwa Akufo-Addo is mostly disrespected by persons who hide behind certain accounts on social media.
These accounts are mostly untraceable and hence, the people involved go free with their immoral behaviors.
There have been a few occasion where individuals who verbally assaulted the president and other top officials have been disciplined by their colleagues or Ghanaians on social media.
In an address to the nation on the corona virus and measures to curb its spread etc, there have been an aftermath chaos and pandemonium over a citizen who used very unexpected and disturbing words in public.
Nana Addo aired live whiles speaking on the covid update, a young woman named Sara on Facebook live insulted the president. See the post below: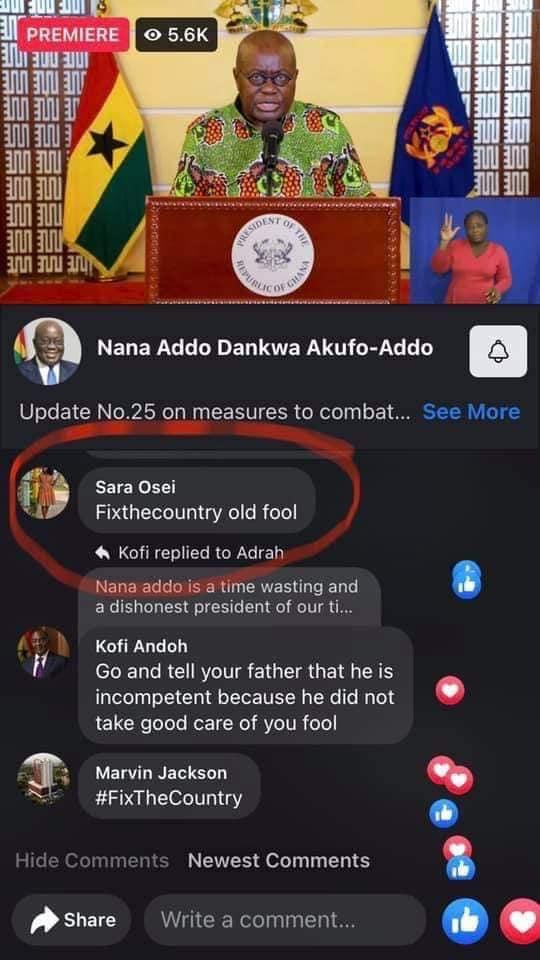 These were very harsh words which no one saw coming from a woman on the internet. The lady who goes by the name Sara Osei on Facebook did this and was heavily disciplined on social media.
After making such statements, she is finally in trouble as many threats and insults flooded her comment section for making such a statement against the president of the country.