Per the information gathered by our portal bares that luck runs out of some criminals as they busted and were dealt with by the police.
In more detail, it is established that at around 1pm on the 2nd day of May, 2021, two armed robbers were arrested by the police at the Kwame Nkrumah circle in the Greater Accra Regional capital, for almost killing a mobile money vendor after robbing him of all his money.
Information gleaned from the incident indicates that the two suspects came to the mobile money vendor earlier this afternoon and asked to withdraw a total of two thousand Ghana Cedis (GH¢ 2,000.00).
After discovering that the MoMo Vendor has enough money to complete the transaction, one of them quickly withdrew a knife and the other removed a pistol having no bullets just to intimidate the victim to surrender all the monies (cash) he has on him immediately.
However, the vendor started shouting for help. Immediately, residents and passers-by came to his rescue.
The robbers attempted to sneak out but were intercepted by the police. The police captured them right on the road and had them handcuffed and sent to the police custody.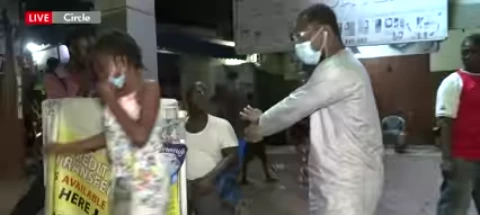 Speaking to a Joy News reporter, the victim said that he was nearly stabbed. But for the intervention of the people who intruded the scene, he would have been dead by now. He said that it was when he screamed that they nearly stabbed him.
The police cautioned the people to always save their emergency contact number on their phones for immediate response in case they are faced with such challenges. They are sure to receive immediate response from the police.
"Don't sit down and suffer in vain. Do the needful thing by calling on us. We assure you that you will get an immediate response as possible. The police is ever ready to discharge their duties to the service of the entire nation," the police told them.