The outspoken broadcaster, Blessed Godsbrain Smart, popularly known as Captain Smart in the media space, came out wild to speak his nind again on TV, following his arrest and bail stress the previous night, by the National Intelligence Bureau (NIB).
Speaking live on his morning show "Onua Maakye", Captain Smart, in his submission, reiterated his point that the presidency is actively involved in illegal mining.
Having Mr Emmanuel Wilson Junior on his show, the Chief Crusader of "Crusaders Against Ghanaian Corruption" worked out and revealed that the President's seat only spends about 120 million Ghana Cedis, just to transport it along with him.
Following a news report from the President's Ashanti Regional Tour, Mr Wilson drew the attention of Captain Smart and his listeners/viewers to something very keen.
"The President is just in to waste the taxpayers' money. He gets pleasure in wasting taxpayers' money".
Why this statement?
He drew minds to countless number of times and events within Ghana, where the President takes along with him the Presidential chair to sit on, wherever he goes.
"Anytime the President travels within Ghana, there is a particular V8 amongst the convoy whose duty is to carry the President's chair along. That particular V8 is driven along with a driver and a security, who protects the Presidential Chair."
Calculation:
See also
SHS Academic Calendar/WASSCE To Be Restored to Pre-Covid Period -GES
Using a conservative figure, the V8 spends an average of ¢1000 on fuel when it moves 200km.
Supposing the President's schedule is such that he travels at least 50 times every month;
50×200km= 10,000km (monthly)
Average distance for a year = 12×10,000km = 120,000km
If the President spends ¢1000 on fuel,
= ¢1000×120,000 = ¢120,000,000
This implies that the President spends about 120 million cedis for fuel, on only one V8 which carries his Chair along with him, without involving the expenses of the other V8 vehicles he uses for his convoy, his security men, and other mechanical injuries.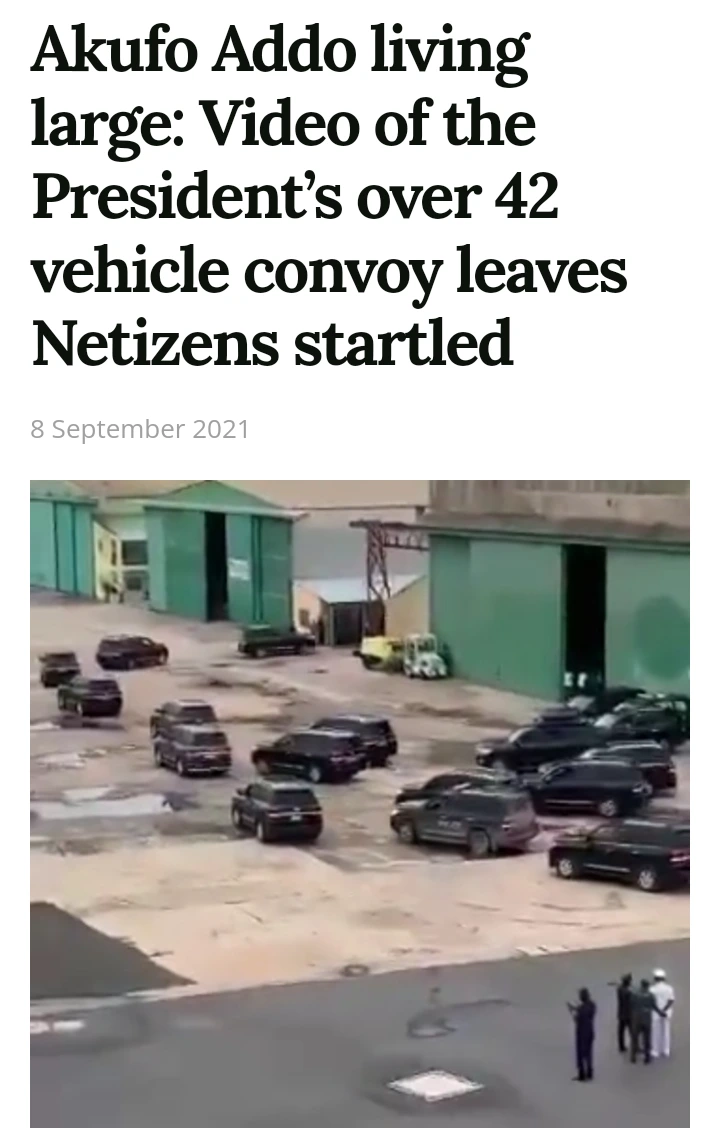 Meanwhile, President Akufo-Addo sat on a bench when he made appearance at Queen Elizabeth's Funeral.
Mr Wilson drew a sensible conclusion that, the President sitting on a bench doesn't change the fact that he is a President.
Nana Akufo-Addo was also spotted sitting in a bus with other African Leaders during the Queens Burial. Yet, it also didn't change the fact that he's President.
"Yet when the President comes to his own country; where the Cedi-Dollar is something we can't even talk about; a country where we cannot feed our SHS students; a country where NABCO workers are unpaid for several months; a country which has inflation; the President feels so comfortable to spend millions of cedis on fuel because he's carrying just a chair.
See also
VIP Buses Announce New Transport Fares -See The New Price List
"The President knows no shame, and he cannot be a father.
Money which could be used to pay NABCO workers who have also got families to feed, is being used to fuel a V8 to carry a chair?
Can this person be a father" – Mr Wilson bemoaned.