A piece of breaking news reaching our news desk reveals that the Kasoa Divisional Police Command has arrested a notorious counterfeit baron identified as Kofi Appiah.
According to the Crime Officer at the station, DSP Owusu Dwomoh said they were hinted about the notorious act of Mr Kofi. As a result, they went to his house only to realize that it's true.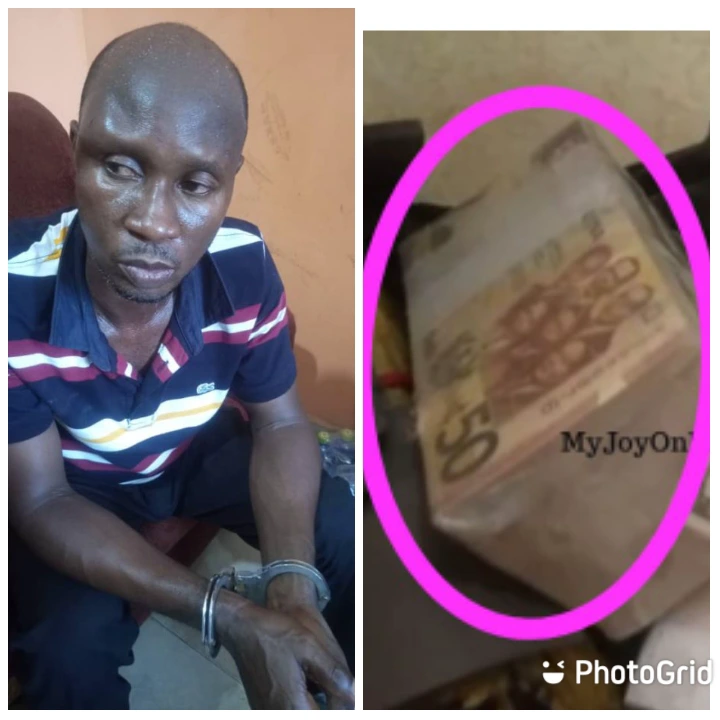 At first, when he was caught, he denied accusations of fraudulent activities. At the time of his arrest, DSP Owusu said the baron had cut out blank papers, the size of GHS50 and GHS100 notes in bundles, awaiting chemical printing. These papers were found in the rooftop.
The 43-year-old Kofi Appiah is known by many to be involved in money doubling, where he tricks his clients into depositing original cash, while he balances it with his counterfeit.
Without any proof to ascertain that he's innocent, he finally confesses his involvement in the act. He claims he's not the manufacturer and that he's been hired by someone. "I'm here in Kasoa because I've been graduated to the central Regional agent", he said.