The president of our land, Nana Addo Dankwa Akufo-Addo has finally spoken and his comment gaining a lot of attentions and reactions on the internet.
His subtly response to the ongoing chants FixtheCountry has angered some Ghanaians as they register their displeasure.
This was a statement he made amidst the ongoing issues in the country concerning the desire and the call out to fix the country.
There have been several public lambasts and many criticism with fingers also being pointed at Nana Addo for allegedly making bad decisions for the country.
There have been lots of social media hashtags recently calling out the president and many other provocative statements which are purported to gain the attention of Nana Addo Dankwa Akuffo-Addo. Speaking today in a post made to social media, Nana Addo finally spoke for the first time on the jobs and opportunities which Ghanaians have currently obtained whiles stating how proud he is as a president of the country.
In the post by the president, he said: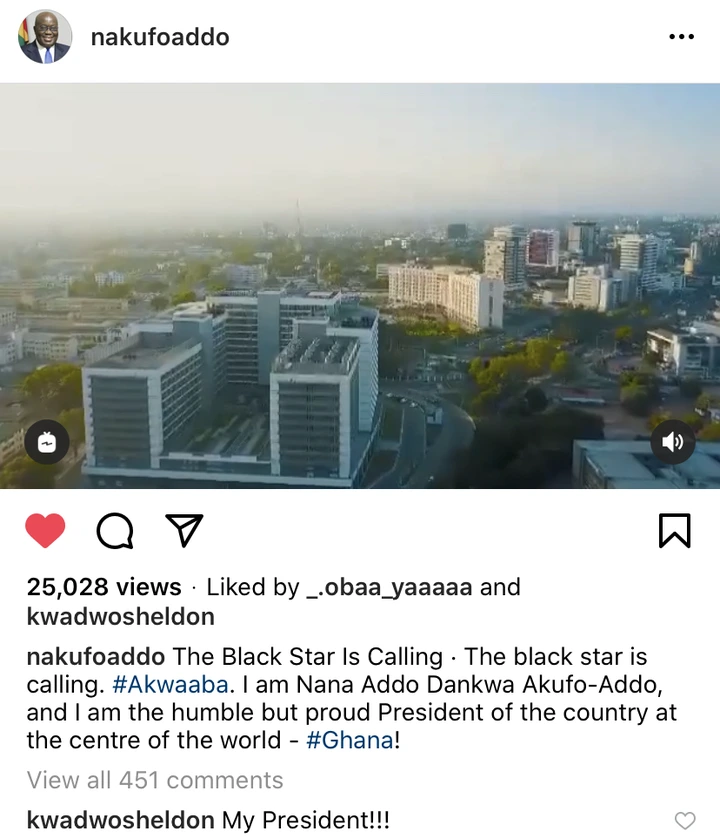 The above was a statement in which Nana Addo showed how proud he was with a video stating what Ghanaians have as a country and how happy he was being the president of the country situated in the center of the world.
This is the first time he is speaking this way after several rants hit the media concerning how he rules etc. People believe this is a reply to the current and ongoing issue even though it didn't clearly state that.
Kindly type your thoughts on this and let us know what you think about Nana Addo's governance and whether the country is being fixed, fixed or not being fixed at all.