It appears the attacks on the lady who insulted President Akufo Addo is becoming unbearable as more persons believed to NPP members lashed out hard at her.
The cultural settings of Ghana frown on the young insulting the aged or leaders. It is mostly an abomination for a young person to insult the elderly and anyone found guilty can be made to face severe punishments by the traditional authorities.
In homes and schools, the young are trained to respect the elderly. However, there are a few people who have decided to show disrespect for different reasons.
One of these reasons in Ghana is mainly because of politics. There have been means to end the politics of insults in the country but some recalcitrant people have turned deaf ears to the call.
A lady who has been identified as Sara Osei is currently in trouble as a cross-section of the public is scolding her for a comment she made when the President was delivering his address on measures taken against coronavirus in the country.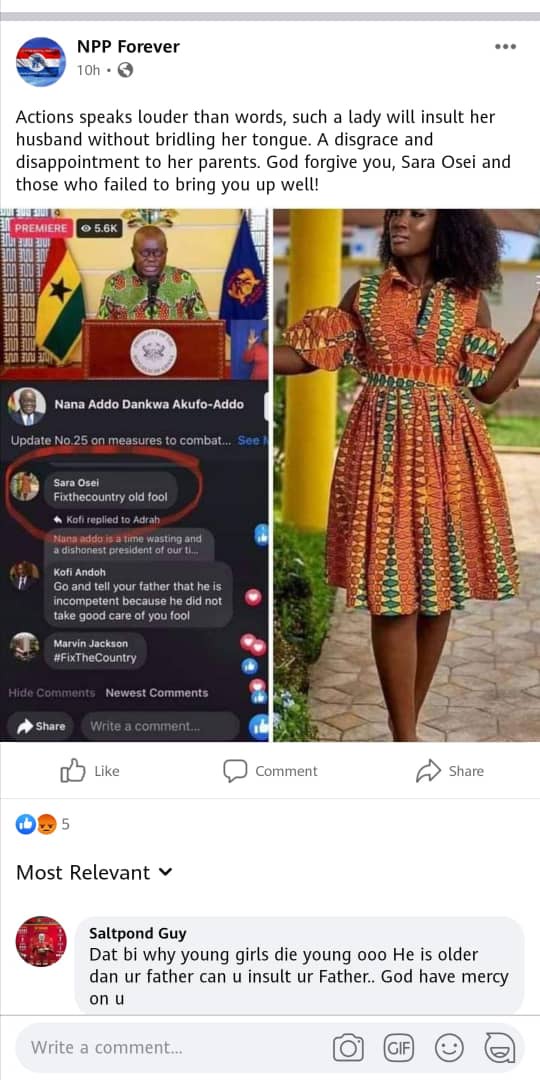 During the delivery, Sara Osei took to the live comment session of the President's Facebook streaming and wrote a statement which many have described as an insult to the integrity of the Nana Addo Dankwa Akufo Addo.
A lot of people commented on the update but Sara Osei seems to have caught the eye of most Ghanaians. Some NPP groups on Facebook have taken up the issue and posted the young lady with troubling reactions.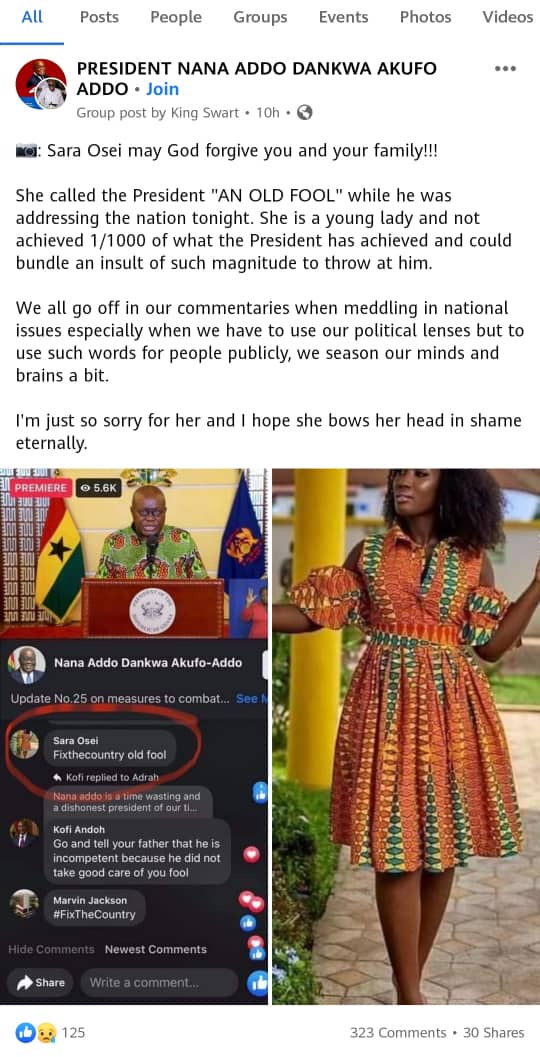 One of the groups, namely NPP Forever has posted the young lady with the inscription "Actions speak louder than words, such a lady will insult her husband without bridling her tongue. A disgrace and disappointment to her parents. God forgive you Sara Osei and those who failed to bring you up well.
Another group known as President Nana Addo Dankwa Akufo Addo has also posted the young lady and described the comment as unfortunate.
They have indicated that the lady is nowhere close to the achievement of the president but still has the guts to insult him.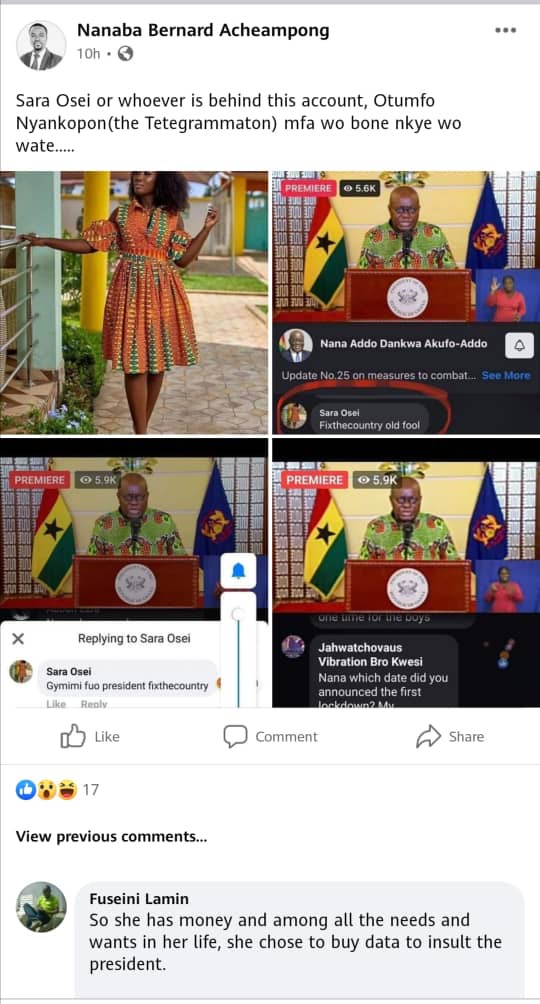 "I'm just so sorry for her and hope she bows down her head in shame eternally. She is a young lady and has not achieved one percent of what the president has achieved but has the guts to insult him". Parts of the post on the page indicated.
The culture where young people are seen raining physical insults on leaders is gradually becoming rampant in Ghana.
There have been several instances where political communicators have been on media platforms insulting leaders in the opposite political divide.
The issue has long been condemned by well-meaning Ghanaians but most people believe Ghana is a democratic state and residents are free to express their opinions without fears.
We are advising the youth to desist from raining physical insults on leadership. Let's all stop the politics of insult.