The #FixTheCountry and #FixTheCountryNow has so far received over 600,000 tweets. This has not happened in the country for quite a long time now. The unusual thing about this hashtag is that those tweeting it seem to be angry. So one will ask, why are they angry?
They are furious because President Nana Addo Dankwa Akufo-Addo made huge promises when he was 'desperately' looking for Presidential Power way back in 2008 when President John Agyekum Kufuor was about to end his second tenure of office on the ticket of the New Patriotic Party (NPP).
He made Ghanaians believe that if the economy of a country is in a quantum mess there, you cannot blame anyone else but the leadership of that country. President Akufo-Addo in one of his tweets said that "God did not create us poor, it is bad leadership that which render us poor".
The image below is the Daily Guide Newspaper published on 27th May 2019 with the heading "Nana jabs Mills". This comes after Professor John Evans Fiifi Atta-Mills won the Presidential elections in 2008. Nana Addo said that "I SAY to President Mills today: if you say the system is broke, fix it…excuses can never be a substitute for vision and purposeful action and can never lead to the better Ghana we were promised".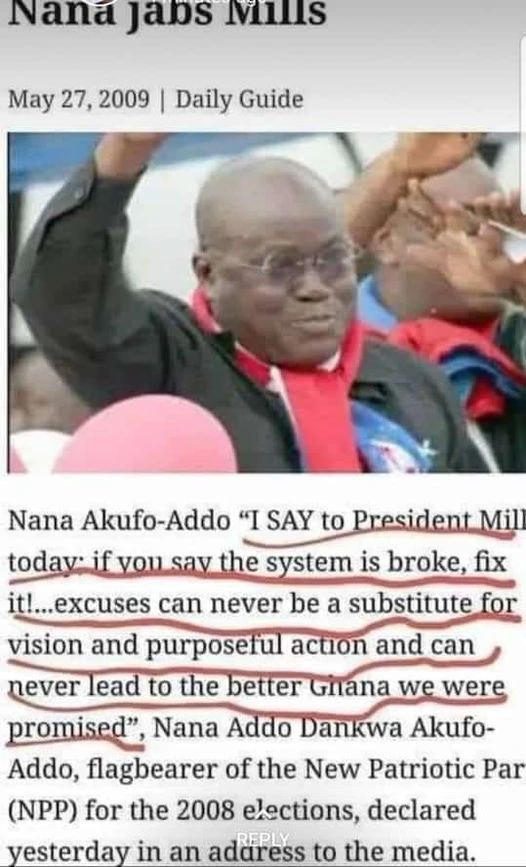 So it's quite unfortunate that some NPP officials and members are telling Ghanaians to fix themselves first before the country can be fixed. You made them understand that we have money but we are hungry because of bad leadership when you were not in power.
Now that you are in control of the State resources you want to eat your words that it is rather their attitude that is making them poor and hungry. Politics in this country cannot be allowed to be cheap propaganda speech that when you promised to deliver, you only turn around to say a different thing when you gain power.
Those asking Ghanaians to #fixyourself must apologize because that is not what you promised them when you were 'desperately' looking for power.