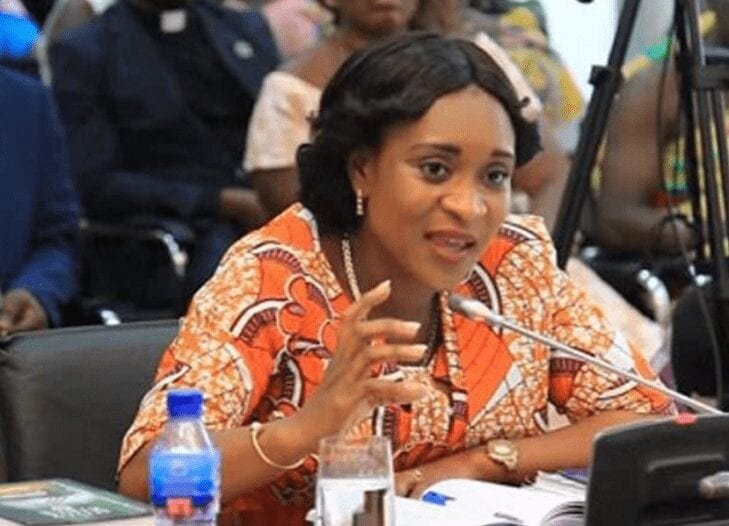 Abena Osei-Asare, the Deputy Minister for Finance have reveal that, the series of ongoing consultation with regards to the Electronic Transaction Levy in the country will have an effect on the final instrument that will be put before the parliament house on Friday.
The approval of the controversial 2022 budget statement most importantly the E-Levy remains an issues causing a lot of pulls and confusion between the parties of the house.
However, the stalemate between the Majority and Minority in parliament is yet to be resolved as both parties are adequately preparing to ensure that they pass the 2022 budget estimates and appropriation for economic development before the House goes on a break  on the 21st of December 2021.
Furthermore, the Minister for Finance Ken Ofori Atta have indicated a few days ago that despite the confusion and issues surrounding the E-Levy, the government of Ghana will continue to interact with major stakeholders in the country for better outcome.
On that note, the Deputy Minister for Finance, Abena Osei-Asare speaking to the journalist after appearing before the Public Account Committee disclosed that significant progress and improvement have been made so far with the discussion and consultation on the E-Levy in the country.
"I believe that we will bring the bill in and hopefully, all things being equal, it will be laid in Parliament, and all of us will see everything stated clearly in the electronic transaction levy. You can never finish consultations, so I cannot say consultations are over, but we have made very good progress in the consultation process and I believe that it will reflect in the bill that we will be presented to Parliament," she revealed.
The emergence and imposition of the Electronic Transaction Levy on Ghanaians has been a contentious issues in the country accompanying with a bustling amount of agitations and reactions from the citizens.
Many about 90 percent of Ghanaians are against the Electronic Transaction Levy because this will further harbor many financial challenges for them as taxpayers. Meanwhile, the Minority Caucus of the House have already declared their stance on the infamous controversial 2022 budget for economic and fiscal policy notably the e-levy.
According to them, they will never support for the approval of the Electronic Transaction Levy in parliament because it will serve as an obstacle to the government digitalization agenda thereby bringing back the cash system instead of the cashless system among many challenges hence their decision to kick against it in parliament.
SOURCE: WONTUMIONLINE NEWS