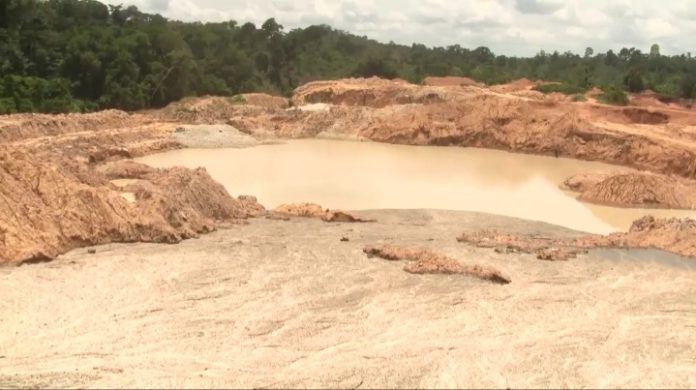 The Deputy Minister for Land and Natural Resource, George Mireku Duker has said that the government are taking another steps and measures to curb the illegal mining activities in the country hence there will be a relaunch of the Operation Halt to tackle the menace.
The Deputy Minister added that, there have been an unnecessary pollution of the water bodies and the environment by the activities of the Galamsey operators despite the banned against the illicit acts by the Government.
However,  Erastus Asare Donkor speaking in an interview on Joynews indicated that, the galamsey operators are still using chemicals for their acts which is therefore, causing a heavy damage to the water bodies especially aquatic breeds and for that matter, government are going to relaunch the Operation Halt in the country to keep them off.
"We are still having some recalcitrant people who are really destroying our river bodies – putting chemicals in our river bodies – and they are not stopping anytime soon until we weed them off. Very soon, we will be launching another phase. They (Operation Halt) just finished some part of Western Region," he revealed.
Furthermore, Mr. Duker disclosed that some of the illegal miners were recently arrested in the Western Region for disobeying the government directives.
He again added that the recently launched program, National Alternative Employment and Livelihood Program (NAELP) by the President of the Republic of Ghana, Nana Akuffo Addo will also aimed at ensuring that the waterbodies and the environmental forest reserve that have been degraded and destroyed are reclaimed.
The National Alternative Employment and Livelihood Program (NAELP) according the government under the leadership of president Nana Akuffo Addo is to provide an alternative means and aid for the illegal miners who have lost their sources of livelihood in the country through the government decision to terminate all illicit mining activities.
It is also to mitigate the arising hardship of the individuals due to the government of Ghana mission to clamp down all galamsey activities that are serving as a threat to the future lives of humans.
SOURCE: Adomonline News