There has been lots of demonstrations over increased fuel prices, electricity, dumsor, galamsey and just to mention but a few as the government has finally responded to Ghanaians plea.
According to a recent communique by government through the National Petroleum Authority, NPA there has been an unexpected reduction in fuel prices which will serve as a very good news to all Ghanaians considering the spike in fuel prices in the past couple of days.
In addition to the communique, the reduced fuel prices would take effect on Wednesday, May 5, 2021 as the the government have removed 8 pesewas from the former fuel prices.
However, the reduction in fuel prices was finalized after the intervention of the energy Minister, Dr Mathew Opoku Prempeh.
Below is a look at details to the reduction in fuel prices that has sparked massive stir, debates and arguments across all social media platforms.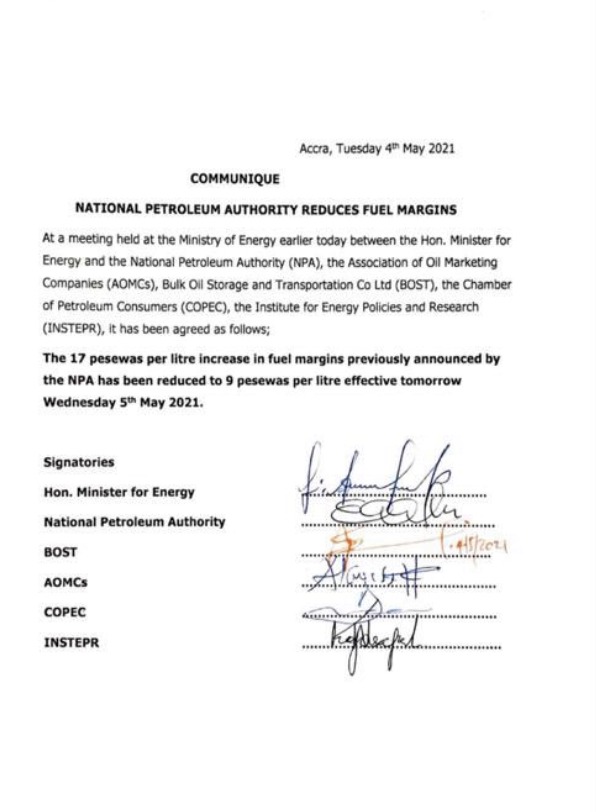 From the above press release, we can clearly notice that, the communique was signed by the various shareholders including the energy ministry, BOST, National petroleum Authority and just to mention but a few.
With respect to this, government together with the energy minister, Dr Mathew Opoku Prempeh have been massively applauded and commended by most Ghanaians for their immense efforts in reducing fuel prices in the country.